Anne Ku writes about her travels, conversations, thoughts, events, music, and anything else that is interesting enough to fill a web page. She has written and produced two chamber operas, premiered in Utrecht, Netherlands. See her publication list for more.
Support the Bon Journal by keeping analyticalQ.com alive and free. Find out about Sponsorship or how else you can show your support
Bon Journal
English National Opera's Cavalleria Rusticana and Pagliacci at the London Coliseum (part one)
As soon as I returned home, I searched on Naxos Online for the Intermezzo from Mascagni's Cavalleria Rusticana, because it was so beautiful and I simply wanted to remember it. My actions reminded me of John, who years ago told me how he'd listen to the CD of the opera he had just seen on the drive home, and then listen to it again after he got home. Perhaps the music in the context of a story made it powerful.
I had heard the intermezzo many times on the radio and had even obtained a piano solo transcription of it. But never had any recording such an impact on me as the live version, a purely instrumental piece played by the orchestra after Alfio expressed his shock and rage at the adultery of his wife Lola. The music was soothing as it was heart wrenching, placating the door whose surface had been unjustly pierced and stripped by Alfio's rampant knife in his anger.
The symphonic intermezzo was also used in many films, including Raging Bull, The Godfather Part III, Anna Magdalena, and an episode of the television series The Sopranos.
A direct translation of "Cavalleria Rusticana" is "rustic chivalry," which doesn't make as much sense as the less direct but more meaningful "honour code of the village people." ENO aptly subtitles it "Sicilian Revenge."
This being my third consecutive night of opera indulgence in London, I feared that I'd be over-satiated. However, the double bill of Cavalleria Rusticana and Pagliacci (known as Cav-Pag) surprised me. Perhaps it was the style of music that I preferred (romantic over baroque) or the extremes of emotion that tore at the heart of me. Certainly, having heard the intermezzo before made a difference.
In a nutshell, 26-year old Pietro Mascagni (1863-1945) was a struggling music teacher who wrote the one act opera for a competition, in the year of his marriage. He had seen the play as a student. The opera won him first prize, instantly making him world famous at the premiere in Rome in 1890. Although 14 more operas and other works followed, it was this particular opera that Mascagni was known by and which launched the so-called verismo or realism movement in opera --- the post-Romantic Italian operatic tradition. This opera also inspired Leoncavallo's Pagliacci, which is often played in the same evening, hence double-bill. See part two of this review.
The libretto is based on a short story of the Sicilian writer Giovanni Verga. TS Eliot prize-winner Sean O'Brien provided the English translation which was used in this ENO production. Set on an Easter morning in a Sicilian village, Santuzza (Jane Dutton) is distraught and very upset as she is about to reveal to Mamma Lucia (Kathleen Wilkinson) of her son Turiddu's (Peter Auty) infidelity. Not getting the love and confirmation she wants from Turiddu, Santuzza insinuates Turiddu's infidelity to Alfio (Roland Wood), husband of Lola (Fiona Murphy) who was the love of Turiddu before he was called away to war. Or you say that Turiddu originally loved Lola but took Santuzza's honour when he discovered Lola had married Alfio. Afterwards Turiddu went back to Lola, thus betraying both Santuzza and Alfio.
The choral singing that I missed in the operas of the previous two evenings (Handel's Partenope and Cavalli's La Calisto) I welcomed in abundance here. The village folks formed the choir both on stage and off stage (producing a kind of antiphonal singing). However strong and powerful it was, what was lacking was facial expression and acting that corresponded to the music. The folks crowded inside the cafe, very much as choir members, not as the actors or actresses that we expected on stage. In contrast, the soloists were very much acting their parts, expressing the violent emotions of jealousy, rage, suspicion, torment, bitterness, and agony.
The soaring lines of the mezzo soprano (Santuzza) and tenor (Turiddu) demanded high notes (pitches) sustained for long durations. Their tremendous unamplified fortissimo's reigned impressively above the full orchestra sound.
Why did I enjoy this third night of opera in London more than the previous two? Could it be that I had the most optimal seat of all? (L16, centre stalls as opposed to dress circle or row R in the stalls) That the intermezzo was familiar to me? That there was a lot of acting and a lot of people on stage? That I was accompanied by a friend with whom I could discuss the music, whereas I had gone alone to the previous ones? That I preferred this genre of music to Baroque? Only by going to more operas will I have a chance to guess why or why not. All the more reason to invite someone to see La Boheme and Aida with me next.
Part two: Pagaliacci
11 October 2008
photo credit: Robert Workman
Before the war, Peter Auty as Turiddu, Fiona Murphy as Lola

Jane Dutton as Santuzza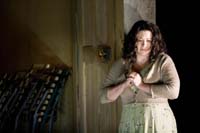 Jane Dutton as Santuzza, Peter Auty as Turiddu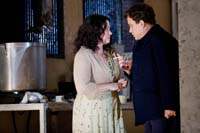 centre - Peter Auty as Turiddu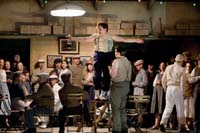 Related links:
Pietro Mascagni, Cavalleria Rusticana recordings, articles, and more
Cavalleria Rusticana libretto (Italian)