Anne Ku writes about her travels, conversations, thoughts, events, music, and anything else that is interesting enough to fill a web page. She has written and produced two chamber operas, premiered in Utrecht, Netherlands. See her publication list for more.
Support the Bon Journal by keeping analyticalQ.com alive and free. Find out about Sponsorship or how else you can show your support
Bon Journal
Cavalli's La Calisto at Royal Opera House Covent Garden London
"Sweetest of kisses, you are a nectar that fans the flames of love"
Having lived in London for over a decade plus frequent travels back and forth from the Netherlands, I was surprised that I had never set foot inside this magnificent building that corners a large section of the Covent Garden --- until the last night of La Calisto. What followed a few days later was a 1.5 hour back stage tour (which I highly recommend to opera fans) of the Royal Opera House (ROH).
The new ROH production of the 17th century Venetian opera La Calisto is apparently the oldest of its kind (even preceding Monteverdi) ever to be staged here. First premiered in 1651, it has received a complete make-over in David Alden's production. [Note: David's twin brother Christopher directed Handel's Partenope in the Coliseum, a production I saw the previous night!] New productions are always interesting, for they revive operas that either have not been performed much, or reinterpret what has become status quo, thereby introducing a fresh interpretation of an older work.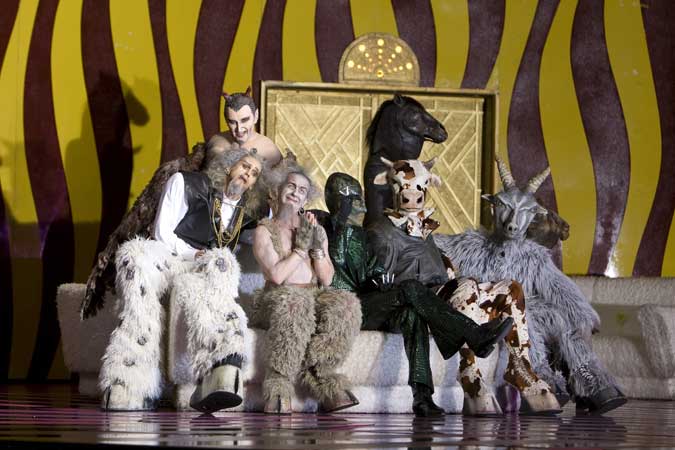 Photo credit: Bill Cooper
Calisto, which means "more beautiful," is the name of the nubile young nymph who, devoted to Diana the chaste goddess of the hunt and the moon, shuns the advances of Jupiter (or Zeus, Jove, etc). To get close to her, Jove transforms himself into Diana and endows sweet kisses (and other transgressions), sweeping her into a love-lorn frenzy and sexual confusion.
Easily the most important mid-17th century opera composer, Francesco Cavalli (1602 – 1676) produced nearly 30 operatic works for Venice, Milan, Florence, and Paris. His collaboration with the young librettist Giovanni Faustini not only produced a steady stream of operas (10 in total) but also established the conventions of what-is-known as the Venetian opera. The two developed a set of "musico-dramatic" conventions which could apply to any kind of subject matter, be it romance, history, mythology. In other words, they developed a template for plot structures, character types, and future dramatic situations, effectively guidelines for the development of opera as its own genre.
Sadly, La Calisto was a failure in its day. Withdrawn after only 11 performances in 4 weeks, it averaged a low seat occupancy rate of 27%. [Contrast this with the Royal Opera House, which boasts a hit rate of 93% --- according to my guide on the back-stage tour.] The countertenor who was supposed to sing the part of the shepherd Endimione (the secret love of Diana) died only to be followed two weeks later by the early death of the librettist Faustini (age 36). Ironically, La Calisto was successfully revived in the 20th and 21st centuries.
The pure sound of the music performed by the joint venture of the Monteverdi Continuo Ensemble and members of the celebrated Orchestra of the Age of Enlightenment contrasted wildly against the colourful, if not outrageous, costumes and props. It's Baroque music on period instruments such as harpsichord, early horn, gut-stringed instruments, and a guitar with an ultra long neck. Rarely heard today, music on period instruments has a different pace and texture from music on modern instruments. More prevalent than any other era, the high-pitched voice of countertenor nowadays was earlier performed by castrati.
Probably what shocked me most is the naked male genital of the half-goat man Satirino who preys upon the love-starved nymph Linfea, exquisitely played by the Belgian tenor Guy de Mey. It is a brilliant exploration of sexuality in various forms: virginity, heterosexuality, lesbianism, animal (Pan with Diana), and that thin line between love and lust.
Looking at the huge circle in the ceiling from my seat R11 in the stalls, during the intermission, while others went to the "Crush Bar" for drinks, I imagined the sheer size of these operatic projects. They presented excellent opportunities for creativity, collaboration, and expression in performance (interpretation of the music), acting, staging, set design, costume, and any number of activities to make this a successful production. An established theatre with a 300 year old history, Royal Opera House employs some 950 permanent staff on its payroll, and no doubt freelancers and contractors, too. If I get used to such professional productions, would I be able to enjoy lesser productions without prejudice? Or in venues of less grandeur and acoustic optimality than the 2,200 seated hall? Or perhaps I'd want to move back stage to be involved in a production, for a change of scenery, so-to-speak.
Even the red programme booklet was carefully researched, articulately written, and colourfully put together --- a gem I would keep like a sheet of music. The biographical notes of soloists mention not where they graduated or studied but which roles in which operas and which venues they have performed in the past. There were historical anecdotes, colour illustrations of old paintings, and long lists of patrons and supporters of the Royal Opera House.
Why do people go see opera? I was never interested until a friend exclaimed that I was missing an essential part of the cultured life. It grows on you, I suppose. How else can you enter such a grand theatre, which is itself a work of art and monument? Or be reminded of the extreme emotions that once plagued us in our younger days? Or the interesting plots that history seemingly dares to repeat and the themes so familiar to us all? The unamplified human voice speaks to us all, sailing above the orchestra, touching every human ear in this gigantic space.
A few days later, during the back stage tour, I witnessed the dismantling of the set of La Calisto. A pity I won't be in London for La Boheme, Swan Lake, or Manon. Maybe next time.
10 October 2008
Photo credit: Bill Cooper
Monica Bacelli as Diana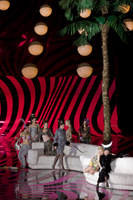 Dominique Visse as Satirino, Guy de Mey as Linfea

Veronique Gens as Juno (in red)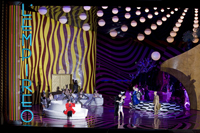 Sally Matthews as Calisto
(near the end)

Guy de Mey as the desperate nymph Linfea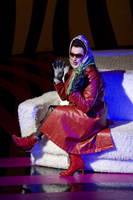 Monica Bacelli as Destiny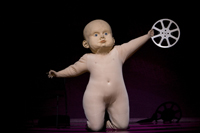 Related links: