Anne Ku writes about her travels, conversations, thoughts, events, music, and anything else that is interesting enough to fill a web page. She has written and produced two chamber operas, premiered in Utrecht, Netherlands. See her publication list for more.
Support the Bon Journal by keeping analyticalQ.com alive and free. Find out about Sponsorship or how else you can show your support
Bon Journal
Handel's Partenope at London Coliseum
Partenope, pronounced like Penelope with four audible syllables, is the fictional Queen of Naples in Silvio Stampiglia's libretto of 1699. Several princes woo her, including Emilio who wants to wage a war to win her love. The new arrival, Prince Eurimene is actually the disguised Princess Rosmira, who was once engaged to Prince Arsace, now one of Partenope's suitors. Director Christopher Alden portrays Partenope as an object of desire in her Parisian salon in the 1920's, a beautiful woman surrounded by many admirers. Originally Partenope is the name of the siren who tried to tempt Ulysses, failing which she threw herself into the sea and drowned.
This three act opera was first premiered in February 1730 at the King's Theatre, Haymarket, less than two weeks after the score was completed. Hot off the press, you could say. Handel himself was living in Lower Brook Street, a short distance away, what is now known as Handel House, a museum and venue for concerts on period instruments well worth a visit. Handel made a home and career in London. 37 of Handel's 40 Italian operas were produced in England. Partenope was his first comic opera (after a string of opera seria). It was performed three times (i.e. three seasons) during Handel's lifetime.
On my first visit to the new coliseum (since the 2004 renovation), I looked every bit the first timer, looking around and up at the lavishly decorated theatre. Situated near Leicester Square tube station and opposite Saint Martin's in the Fields Church at Trafalgar Square, the London Coliseum is home to the English National Opera renowned for producing operas only in English. I asked the retired couple next to me why they came to see Partenope.
"It's a neglected work of Handel," the English lady replied. "It's rarely performed. We were curious."
She and her husband had queued outside, as early as three hours before the show, to get half-price tickets as pensioners. While her husband preferred Mozart, she enjoyed Wagner. Thus they often compromised by going to operas of other composers.
I asked if she would be dissuaded by bad reviews of operas.
"No," she said. "Why should someone else's opinion count more than mine? I would want to find out myself and be my own judge."
The curtains opened to a magnificent staircase curving down to the left side of the stage. Partenope (soprano Rosemary Joshua) is tall, slender, and beautiful. She is generous as she is graceful. Her admirers, Almindo (countertenor Iestyn Davies) and Alsace (mezzo-soprano Christine Rice), play cards with her. A new visitor arrives and introduces himself as Prince Eurimene (mezzo soprano Patricia Bardon) whom Alsace recognises immediately as his Rosmira.
This being my first 17th century opera, I wasn't prepared for over 3 hour-predominance of the voice range of countertenors and mezzosopranos. The bass-baritone voice of ENO young singer James Gower as Ormonte was a nice break from it, albeit infrequent. Tenor John Mark Ainsley arrives as Emilio, a character portrayed in this production, as a photographer who intrudes on the sweet gathering of Partenope and her suitors.
There are plenty of recitatives in conversation, and solo arias expressing one's unreciprocated love but not enough of engaging duets. Certainly no choir, just the six characters.
Handel's music played on period instruments is light. Typical Handel, I'd say. That is, you recognise Handel, like hearing his Water Music, Messiah, or other more well-known works. He repeats certain motifs over and over again, i.e. the same set of notes in one aria appears in another. After awhile, it becomes predictable ---- even cliché.
During the second intermission, the lady next to me asked, "don't you find that you can't hear or understand the libretto in English as well as in Italian or German?" Without the English surtitles, I probably would have difficulty. The English language is not musically syllabic as Italian. I would find the difference the next night when I would see another Baroque comedy in its original Italian libretto.
Did I enjoy Partenope? Yes, it was nice. But what I missed, I'd find out on my third night of opera --- at the double bill of Cavalleria Rusticana and Pagliacci, also at the London Coliseum. Indeed, you don't know what you're missing unless you've experienced it. Whatever was missing came to me as a surprise.
9 October 2008
Photo credit: Catherine Ashmore
Opening stage
ROSEMARY JOSHUA as Partenope

Full company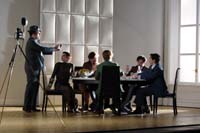 Related links: