Visit analyticalQ
to find out how you can help keep it independent, alive and free!
Announcements

Classical Guitar Masterclasses with Matt Gould - Saturday 1 July 2006
House Concert in Utrecht
Sunday 2 July 2006
For sale:
midi-keyboard
Tanglewood guitar
Maarten guitar
Christopher Dean guitar
Sony Walkman
Rollerblades
finance, math books
WANTED:
digital cam corder
books on music
sheet music
May 2006
When I flew to London last week, there was still a bit of chill in the air --- in Amsterdam and London. What a pleasant surprise to come back to Spring with a whiff of Summer!
Visiting Utrecht this summer? come to House Concert in Utrecht
Exactly two years ago, the ace of spades arrived only to depart yesterday for a better future. And only a year ago, I sold my grand piano in London. In the moments before the piano transporters showed up, I played elegies by Rachmaninov, Francaix and Sibelius --- to mourn the past two years.
Why mourn? I have become quite attached to this "arbeitswoning" house which I had complained so much about. I will miss the heated floors of the bathroom which my neighbour from London had an integral part in the making. I will miss the absolute tranquility when I sleep at night. And I will definitely miss the bright fitted kitchen with natural light from the sunroof. Perhaps it takes me awhile to get used to a place. But for my ace of spades, it was instant attraction.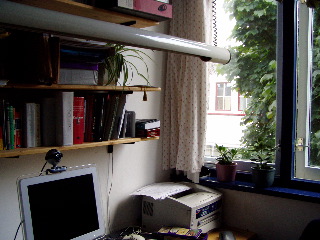 about the author:
Anne Ku writes about her travels, conversations, thoughts, events, music, and anything else that is interesting enough to fill a web page.
Tell your friend(s):
New to Bon Journal?
Check out past issues of
Le Bon Journal newsletters (2-page PDF) containing the best of Bon Journal by themes