Visit analyticalQ
to find out how you can help keep it independent, alive and free!
Announcements
---
Call for scores (new compositions)
NO AGE LIMIT:
---
Wanted:
self-catering accommodation in Maui over Christmas and New Year's:
Home Exchange?
For sale in London:
Tanglewood 6-string folk guitar
Roland midi keyboard (no USB)
For sale in Utrecht:
hand-made speakers, amplifiers, more!
---
SUPPORT Bon Journal:
put your announcement here!
October 2007
Forthcoming:
book review: More Courage
event reviews: Gaudeamus Music Week, Dutch Cornucopia London, Liszt piano competition selection rounds in Utrecht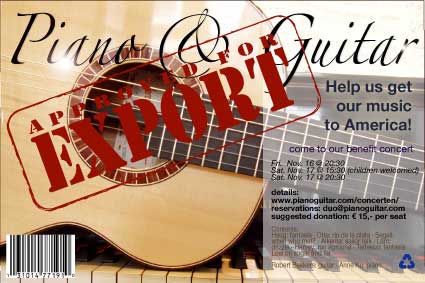 about the author:
Anne Ku writes about her travels, conversations, thoughts, events, music, and anything else that is interesting enough to fill a web page.
Tell your friend(s):
New to Bon Journal?
Check out past issues of
Le Bon Journal newsletters (2-page PDF) containing the best of Bon Journal by themes